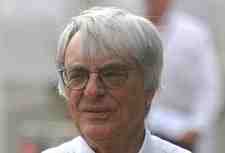 Formula One supremo Bernie Ecclestone has revealed he is working behind the scenes to facilitate Richard Branson's buyout of Honda.
Honda Racing chiefs, who have less than a week to secure the team's future following Honda's withdrawl from the sport at the end of last year, are expected to unveil a new buyer on Monday – and Richard Branson's Virgin Group has emerged as the front-running candidate.
Formula One chief executive Bernie Ecclestone has given the proposed bid a firm seal of approval and has revealed that he has contacted Branson's Virgin Group directly to move the discussions along.
"I've spoken to Richard's people about it. He would love to do it," Ecclestone told international news agency Reuters. "I'd like it very much. It would be super. We're working to try to make it happen."
The options available to Honda's Tokyo bosses are believed to have narrowed to just two: Branson's Virgin Group bid and a possible management buyout from team chiefs Nick Fry and Ross Brawn.
It is still possible that Honda could disband the Brackley-based outfit altogether, but that is believed to be something of a last resort given the costs that the Japanese manufacturer would accrue in redundancy payments.
"I have no idea which way it will go. I wouldn't bet on it either way," added Ecclestone.
Another possible bidder in the frame is Brazilian telecommunications firm Embratel who could provide further money if their sponsor Bruno Senna were to partner Jenson Button in the car for 2009.