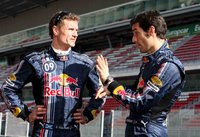 David Coulthard has dismissed Mark Webber's recent contract talk as a "positioning tactic", while Red Bull Team Principal Christian Horner has been quick to lavish praise on the Aussie.
Webber, whose contract with Red Bull expires at the end of the year, told reporters in Spain that he was eager to stay with Red Bull beyond 2009.
""We are talking now. I am free next year but I am massively keen to stay here," said the 31-year-old.
David Coulthard, whose contract is also up for renewal, has interpreted this as a move by Webber to raise his profile in the driver market.
"I can only presume it was either to stimulate talks with the team or to stimulate interest in the rest of the paddock, reminding people that he's on the market," the Scott said on his ITV column.
"I would conclude that it was a positioning tactic rather than anything else."
F1's elder statesman insisted that he would not be making a similar move in his own negotiations: "I will keep my own counsel until I have a firm deal to announce," he affirmed.
Red Bull Team Principal Christian Horner meanwhile has been quick to applaud Webber's strong start to the season – the Red Bull driver has finished in the points in the last four races.
"Mark is in the form of his life at the moment and I think he is driving extremely well," said Horner.
But he acknowledged that Coulthard has been unlucky not to score points so far: "David has had more than his fair share of bad luck, but he was very much back on form in Istanbul, which is very positive for the team, as we rely heavily on both our drivers bringing back points."