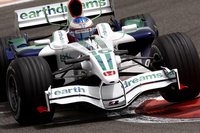 Jenson Button is disappointed with his performance at last weekend s race in France which saw the Brit tap the Toro Rosso of Sebastien Bourdais on the first lap, a knock which damaged his front wing. Despite pitting for a new front wing, the car sustained some aerodynamic damage and Button had to retire from the race.
"I got a good start and I pulled up alongside Bourdais," Button said in an interview with ITV. "I thought he was going to turn in to turn one and close the door, so I pulled right up behind him, it all slowed down a lot and I hit him in the rear.
"That was it it damaged the car and I could feel there was something broken in the front because I could feel the air coming through the front. I had understeer in the car but it was driveable and I was staying with the back of the pack no problem, so I continued.
"But it must have been loose and it dislodged itself when I went over the kerbs in the last chicane. It got stuck under the front and the car was undriveable."
"It s really disappointing and annoying that we crashed again because it s not like me and I ve had a lot of it this year."
The crash is the latest in a series of miserable races for the British driver who has had two first lap incidents this season in Bahrain and Monaco, and whose only scoring finish was when he managed sixth place in Spain.