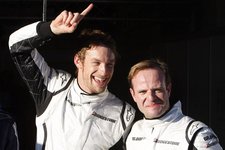 Jenson Button was overjoyed with his second win of the season for Brawn GP and had no qualms about finishing the race under safety car conditions again.
The Briton, who is now recognised as the man to beat in this year's Formula One World Championship, charged to victory in the Malaysian Grand Prix – a race he described as "crazy" after torrential rain cut the event short.
The safety car was deployed on Lap 32 of 56 in response to an almighty deluge, but even then drivers continued to aquaplane off the track prompting the race directors to stop the race.
At the time the red flag was waved Button had clawed his way back from a bad start to take the lead, a position he maintained despite the field making multiple pit stops to respond to the changing weather.
"What a crazy race," said Button, who now leads the world championship by five points over teammate Rubens Barrichello. "My start was pretty bad. I don't think I'd got enough heat in the tyres and had a lot of oversteer. But I went back to fourth, got up to third, eventually got back up to the front, and I was pretty happy with that, our pace was pretty good.
"Choosing the tyres was very difficult, because normally here when it rains it pours, but it didn't to start with. We went for the full wet tyre and it destroyed itself, and then I saw Timo (Glock) flying up behind us with the inter, so we put the intermediates on.
"Just as he came by I saw his tyres were bald and it was raining out the back, so he was struggling quite a lot and had to pit.
"I got one lap in on the inter at a reasonable pace and was able to get in and put the wet tyre on and get back in front."