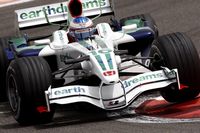 Honda Aircraft Company, Inc, have begun their European sales of the HondaJet advanced light jet at the European Business Aviation Convention & Exhibition (EBACE).
Their first customer is no stranger to them F1 race Jenson Button is reported to have bought two of the light business jet at a price of around $3.65 million each.
Button is currently in the process of forming a new aviation charter business and has chosen HondaJet to support his new business venture. He is expected to receive his new jets in 2012.
"We are very enthusiastic about the future potential of the flight charter business and the unique capabilities of the HondaJet in helping us achieve a successful launch of this new enterprise," said Button.
"I am especially impressed with the many advanced technologies on HondaJet that provide class-leading performance, efficiency, and agility without sacrificing environmental concerns. My personal experience with Honda and its dedication to performance, quality and engineering excellence in every detail clearly demonstrates the value in flying HondaJet"