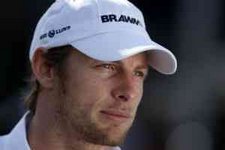 Jenson Button has been awarded an MBE by the Queen. "To be recognised by Her Majesty The Queen and the British people is a tremendous honour for me," The F1 World Champion commented.
"The past 12 months have provided me with such an exhilarating journey. We literally started with nothing, but had the belief, determination and passion to take on the world and succeed.
"Everybody at Brawn GP played their part – and it was down to their expertise, dedication and hard work that we were able to achieve so much."
Button's team boss at Brawn GP, Ross Brawn, was also honoured – although this time with an OBE, for more than 30 years service to motor sport.