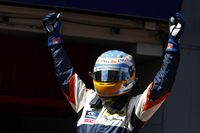 Ross Brawn has admitted that he would love to have Alonso driving for the Honda team although he believes the Spaniard has his eyes set on driving for Ferrari.
Over the past few months there has been much speculation over the future of the double world champion. Many believe that the performance of Renault is not up to the expectations of the Spanish driver and that he has a clause written into his Renault contract that if they fail to meet certain performance criteria, he is free to leave at the end of the season.
"Honda is no different, of course," Brawn explained in an interview with Swiss publication Motorsport Aktuell. "Fernando is a very good driver and everyone would like to have him sitting in their car.
"I know what team he would like to go to everyone does. The reality is that before we can talk seriously with him, the situation with Ferrari must be resolved."
Despite the Alonso s relationship with McLaren very publicly turning sour, Brawn has said that this has not fazed the Honda team and that he does not believe there would be the same problems if he joined Honda.
"There would not be a problem, not at all," Brawn continued. "The truth is that it would be a fascinating challenge. Broadly speaking, everyone who has worked with him speaks highly of him. With McLaren is was obviously very difficult but the people at Renault regard him very highly."