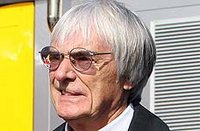 By GMM
Bernie Ecclestone on Saturday played down speculation he is hatching a plot for a 'breakaway' championship.
"Nobody has discussed a breakaway series," the 77-year-old Formula 1 chief executive told reporters in the new media centre at Montreal's Circuit Gilles Villeneuve.
Sources in the paddock insist that the press reports of a possible split with the FiA, thus solving his quarrel with FiA president Max Mosley, were triggered by off-the-record remarks to journalists made earlier this weekend by Ecclestone.
It was claimed that he met with team bosses on Friday to discuss moving away from having the Paris based FiA as regulator.
But Ecclestone insists that the two and a half hour meeting was simply to discuss the contents of a new Concorde Agreement, which Mosley has been reluctant to agree to.
He stopped short of suggesting the sport would be better off without the FiA.
"There wouldn't be any difference, they'd still be arguing amongst the teams about what they want," Ecclestone said.
John Howett, president of the Toyota team, also played down reports that the Formula 1 teams are nearing unanimity about wanting to split from the FiA.
Referring to a new Concorde, he told Reuters at Montreal: "For most of the teams, they want that to be a tripartite agreement involving the FiA as in the past.
Source: GMM
Picture: Red Bull / GEPA