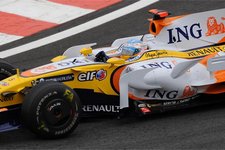 The Formula One fraternity will have to wait until after this weekend's Brazilian Grand Prix for Fernando Alonso to announce his whereabouts next season.
The Spaniard lapped quickest in Friday practice and is chasing his third win of the season in Brazil following back-to-back victories in Singapore and Japan.
He is widely tipped to stay at Renault for 2009 given the team's staggering turnaround in performance during the second half of the season; Alonso and senior chiefs reckon the R28 is now the third best car on the grid.
But the Formula One community will have to wait until after the final race of the season for Alonso to confirm that he is staying at the team.
"I think next week," he told reporters in Brazil.
Alonso vaulted to the top of the timesheets in the second practice session, beating both Felipe Massa and Lewis Hamilton. He remains one of the dark horses in Sunday's pivotal race.
"The day has gone well," reflected Alonso. "We have been able to complete our programme without any problems and we have recorded lots of interesting data."
"We still need to work hard to improve the car in time for tomorrow, but I'm pleased with my day."
Renault have already beaten rivals Toyota to fourth in the constructors championship courtesy of Alonso s impressive performances, and that, reckons Alonso, puts the team in a perfect position to score strongly in Brazil, given that rivals Ferrari and McLaren will be locked in a fierce title scrap.
"This year we have already achieved our objective to end the season fourth in the constructors championship with the third quickest car so we can therefore approach this race with less pressure and be more relaxed, which may help us take advantage of the situation," he added, "after Singapore and Fuji, the team now believes that anything is possible.
Team boss Flavio Briatore meanwhile has suggested that Alonso will probably stay with Renault for next year.
"The chance (that Alonso stays) is fairly big," the Italian said in an interview with German newspaper Welt am Sonntag. "The last race is this Sunday, so both of the sides will decide then."