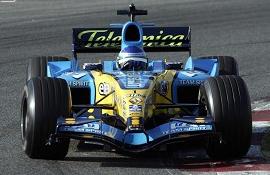 The R26 took nearly 18 months to complete – from initial design to racing debut. Over 10,000 drawings were made and the final car was made from over 6,500 components. 80% is made up of carbon-fibre with the gearbox being made of titanium. Six chassis were made for use in both races and testing. The new chassis also housed a brand-new V8 powerhouse, the RS26.
The R26 continued to evolve throughout the season – the most notable being the banning of the mass damper system in July 2006.
Over the course of the 2006 season, the R26 took 8 GP wins, 7 pole positions, 5 fastest laps, 3 all-Renault front rows and took 206 points over the season. It led 520 racing laps which is just over 1/5th of all laps raced!
There's no doubt that the R26 deserves it's well-earned title. The brand has great technological and engineering excellence combined with outstanding reliability and top-class financial management – the Renault F1 team achieved so much with only the fifth largest budget in Formula 1.
However, technology continues to move forward and Renault cannot afford to rest on their laurels. With the R26 only just returning home, the factory is already hard at work on their next car – the R27 – which should be unveiled for the first time in the early new year.
2006 Renault R26 Formula 1: Vital Statistics
Engine Location: Rear
Drive Type: Rear Wheel
Weight: 600 kg (1323 lbs)
Engine
Engine Configuration: V
Cylinders: 8
Aspiration/Induction: Normal
Displacement: 2.40 L | 146.4 cu in. | 2399.5 cc.
Fuel Type: Petrol
Standard Transmission
Gears: 7
Transmission: Manual
Tyres / Wheels
Tyres: Michelin
Wheels: OZ Racing