Following the uncertainty which surrounded the event over the winter, a new seventeen-year deal and a brand new layout sees Silverstone secure its place as the long-term home of the British Grand Prix.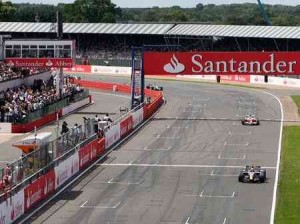 This weekend will mark the halfway point in the season, and with both championships remaining tight, entrants will want to gain as much momentum as possible.
The race is often classified as a home event to the majority of teams with no more than eight of the current twelve teams based in Britain.
However, for many of the passionate fans who will deck out Silverstone this weekend there is only one story: The British duo of Lewis Hamilton and Jenson Button.
But will one of McLaren's drivers be able to claim victory on home soil or will Red Bull conjure up another dominant performance around the Northamptonshire circuit?
Click here for Grand Prix Cast Podcast preview for this weekend.
Specifications:
Laps: 52
Race Distance: 190.612m
2009 Pole Sitter: Sebastian Vettel (1:19.509s)
2009 Winner: Sebastian Vettel
Fastest Lap: N/A (New layout for 2010)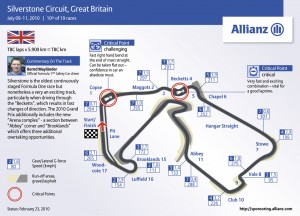 Tyres:
Bridgestone has chosen to use its Super Soft compound as the option tyre for this weekend's race, with the Japanese manufacturer nominating its Medium tyre as the Prime.
Hiroshi Yasukawa Director of Bridgestone Motorsport
"The British Grand Prix is one of the most famous on the calendar and we are pleased to be visiting Silverstone once more. Bridgestone Motorsport is based in Langley, near Heathrow, so this is a home Grand Prix for us. I am happy that Formula 1 will experience the new circuit layout that Bridgestone recently enjoyed with the British MotoGP race. Bridgestone UK is a very supportive market of our F1 programme and will enjoy a range of activities there."
Hirohide Hamashima – Bridgestone Director of Motorsport Tyre Development
"We know Silverstone very well from so many races here in the past, however now we have the challenge of a new layout. The track was previously one of the most severe for the tyres in terms of layout and circuit roughness on the calendar. The new layout, if anything, makes it more punishing, and certainly too severe to bring our super soft compound. The additional straight means that the average speed should be higher than before. Entering the new section, the right hand turn at Abbey should create high lateral forces. With Bridgestone's unique position of supplying both Formula 1 and MotoGP we were able to validate a lot of our predictions of this new layout at the recent British MotoGP round so we are quite confident looking to this race. We are hopeful of a good spectacle with the soft and hard compound tyres and certainly will learn a lot from the new configuration."
Challenges:
Even in its new form Silverstone still possesses many challenges for drivers, which allows it to maintain its position as one of the most demanding circuits on the entire calendar.
The high speed Maggots and Becketts sees drivers twist and turn as they contend with around G-Forces of around 5G.
Although the new layout has resulted in the loss of Bridge corner, the re-profiled Abbey corner should prove to be sufficient compensation for the drivers.
To master Silverstone drivers and teams must ensure that their cars are mechanically stable. Furthermore, to be more precise while changing direction in the faster corners, cars will have to carry a stiffer set-up.
However, drivers may be forced to compensate on their usual set-up in an attempt to gain better traction out of the tighter and slower corners offered in the new Arena section. The most obvious of these is The Loop' a first gear, 53mph right hander.
In terms of overtaking, the run down to Hanger Straight continues to allow opportunities into Stowe corner. The new layout of the new Arena section may allow drivers to switchback on each other, while dicing closely.
Although the run down the Wellington Straight will present an opportunity to overtake into the widened Brooklands corner, the increase in the corner's speed may yet prove detrimental.
History:
Built on the three runways of a former World War Two RAF base, Silverstone hosted the first ever round of the Formula One World Championship the European Grand Prix won by Giuseppe Farina for Alfa Romeo.
Despite many threats to its security over the years, the British Grand Prix remains a stalwart of the sport's calendar; and following the agreement reached between circuit owners, the BRDC and the commercial rights holder, the race's long-term future looks far more promising.
Over the course of its history, the event has been held at no less than three different locations. Aintree, more associated with horsepower of a natural kind, hosted the race over a spell of 1955-1962 before handing over the reigns to Silverstone and Brands Hatch – both alternating as hosts up until 1987 onwards.
Focusing specifically on the current hosts, and Silverstone has produced many classic races over the years many involving British drivers.
The first British driver to triumph at Silverstone was in 1958, when Peter Collins powered his Ferrari across the line.
Britain welcomed a host of local victories in the 1960s with Jim Clark winning at Silverstone twice during his four year stronghold of the event (from 1962-1965). Clark's final British Grand Prix victory would come in 1967, before he was replaced at the top of the rostrum by fellow Scot, Jackie Stewart in 1969 and 1971.
In 1977, James Hunt stormed to victory to put the icing on cake, following his title triumph, the year before.
However, McLaren would have to wait until 1981 before it would win on home soil once more. This time Ulsterman John Watson, aided by a huge incident involving Gilles Villeneuve and Alan Jones, took the chequered flag for new boss Ron Dennis the first ever victory for a car featuring a carbon fibre composite monocoque.
Of all the British drivers that managed to win at Silverstone, no one capture the nations hearts like Nigel Mansell.
Winning British Grand Prix on four separate occasions and three at Silverstone itself, Red Five's greatest drives came during his famous battle with Williams' team-mate Nelson Piquet in 1987 and then his rapid drive to second place treacherous conditions which hampered competitors a year later.
Alongside Mansell, Damon Hill and David Coulthard also tasted success on home soil in the 1990s the former winning in 1994 in a race marred by Michael Schumacher being black flagged and latter's for the German's crash at Stowe corner and subsequent leg break.
Although Coulthard would triumph at the turn of the century, Britain would have to wait a further eight years before it had another native winner with Lewis Hamilton finally ending the drought in the rain-soaked race in 2008.
Tips:
The Ones to Watch: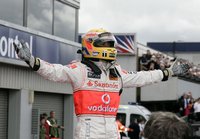 Although Red Bull's RB6 should be well suited to the Silverstone circuit, McLaren will be hoping that its raft of new upgrades will allow either Jenson Button or Lewis Hamilton to be triumphant.
However, the Woking-based will have to wait until Friday practice to decide whether its blown-diffuser' system will be beneficial.
Surprises:
Another team expected to introduce its own version of Red Bull's exhaust system is Williams. Despite having not won the race since 1997, the Grove-based team has a strong record around Silverstone and will be hoping to build on the impressive speed shown in Valencia.
McLaren:
Jenson Button (2009 Qualified: 6th, Finished: 6th)
"Racing in front of your home crowd is one of the biggest buzzes for any racing driver. And racing at Silverstone is always an exceptional experience – the crowds are huge throughout the weekend, everybody absolutely knows their stuff, and the motivation and support you get is like nowhere else on earth. I love it. The Santander British Grand Prix is a bit of a festival of motorsport – there's a great atmosphere there, a party vibe, and you meet people who've supported you throughout your career, which is always very rewarding.
"Of course, the big unknown for this year is the new track configuration. On paper, it looks to have kept most of the classic corners, which is important. We've lost Bridge, but we've still got Copse, Becketts and Stowe, which is great. There's no substitute for actually driving it though, and a new circuit is always great fun to try out and get to grips with, so I can't wait for Friday morning. Even though I came to Silverstone last year as the championship leader, I still haven't won this race. I'm second this year, and I can think of nothing better than being able to take a win in front of my home crowd – that would be amazing."
Lewis Hamilton (2009 Qualified: 19th, Finished: 16th)
"The Santander British Grand Prix is the halfway point in the season, and our whole team is really hungry for success. After spending most of 2009 out of the hunt, I can tell that everybody is really fired up, particularly for this weekend, where we'll be performing in front of a home crowd, and all our friends and families. It would be amazing to score another great result at our home race. We haven't raced on this Silverstone configuration before – I've looked at the track map, and I've seen some onboard footage, and I like what I've seen. It still looks fast and sweeping – even the new corners look medium- to high-speed, which is what you want around here.
"To be leading the world championship going into my home race is a fantastic feeling – I know very well the effect of people-power around here – in 2007, when I got pole position, I vividly remember driving around on my slowing-down lap and I could hear the noise of the crowd over the engine. And in 2008, in those terrible, wet conditions, nobody lost heart or faith, and they kept waving their flags and banners for me on every single lap. When you see that kind of dedication, you know you've got to repay it. And that's why I go to Silverstone absolutely determined to get a great result; to make 100,000 people proud of our team and our country. The Santander British Grand Prix is one of the best races of the year – it's going to be a brilliant weekend. Bring it on."
Martin Whitmarsh, McLaren team principal
"In the past three races, we've scored 119 points from a possible maximum of 129 – an incredible statistic that tells you a lot about our hunger to fight at the front. Our home race at Silverstone has a special significance for all of us, and it would make the whole team tremendously proud if either Jenson or Lewis were able to stand atop the podium on Sunday afternoon. Such a result would be the highlight of our season so far.
"As we stand at the halfway mark in the season, I'm incredibly pleased with the way the team is currently operating. There's a real grit and determination at work: you can feel it when you walk in the garage. We've created our own internal momentum, and it's extremely rewarding to see how everyone is pulling together for the greater good. It's the way great teams work, and I've rarely seen the team as single-minded – from factory floor to racetrack – as it is right now."
Mercedes GP:
Nico Rosberg (2009 Qualified: 7th, Finished: 5th)
"Silverstone is a great circuit and one of those tracks which provides a real challenge for you as a driver. I think every driver loves to race there. The layout is demanding with the very quick corners and it will be interesting to see the new changes in the Arena complex for this year. The atmosphere and the fans are always fantastic at Silverstone and it will be even better this year with our factories just down the road and the support of everyone at the team. We will be going back to Brackley after the race to see everyone and it would be nice to get a good result to reward their hard work. It's been tough for us over the last few races but we are working hard to improve and I am confident we will get there."
Michael Schumacher (2009 Qualified: N/A, Finished: N/A)
"Silverstone represents a special race for us as it is so close to everyone at our factories in Brackley and Brixworth who are all working like hell to make up the quite difficult start into the season that we have experienced. We would like to give them and all of our supporters a good performance this coming weekend, even if we seem to struggle a bit at the moment. We have to face the fact that we were less competitive in Valencia than we had hoped for which makes it difficult to predict how we can perform at the British Grand Prix. Our race pace has been quite promising but our qualifying speed is not yet ideal and we still do not understand the full picture about the tyres. This clearly is something that we will keep working on intensively. I have a lot of different and mostly nice memories of Silverstone and therefore I am obviously very much looking forward to travelling there. We will certainly try to do our best there."
Ross Brawn, Mercedes GP team principal
"The British Grand Prix is always a very important and special weekend for our team with Silverstone situated between our factories in Brackley and Brixworth and as one of our home races. We are delighted that the British Grand Prix is secure for the foreseeable future and look forward to experiencing the new track layout at Silverstone next weekend. A lot of thought and hard work has gone into the improvement plans and Silverstone will be a venue to be proud of for both the organisers and the thousands of fans who visit over the weekend. Our team has had a challenging time over the recent race weekends in Montreal and Valencia but we retain our motivation and are working hard to improve our performance and maximise the potential which can be taken from our latest upgrades. It's a long hard road ahead but we are confident that we will get there."
Norbert Haug, vice-president, Mercedes-Benz Motorsport
"The race at Silverstone is a classic and it is good for Formula One that this traditional Grand Prix has remained on the calendar. After substantial modifications to the circuit, parts of the track layout will be new for all teams and drivers. With the remodelling, there are slower sections added to the predominantly fast layout of the track. Our Mercedes GP Petronas team will have two of our home races in a row this month with the German Grand Prix following just two weeks after Silverstone. It is very important for us to show an upward curve of performance as we did not achieve the best possible results for us in the two previous races in Montreal and Valencia. Our hard working and totally motivated team will be giving their all for these improvements."
Red Bull;
Mark Webber (2009 Qualified: 3rd, Finished: 2nd)
"Silverstone is synonymous with speed. Through the opening seven corners of the lap the speed of an F1 car never drops below 200km/h (125mph) and there are some very fast changes of direction, which are both exhilarating and physically demanding. The layout of the circuit has changed a bit since 2009 because there are four new corners this year. Two of them are very slow, but I don't expect them to alter the overall flow of the track; it's still going to be a fantastic high-speed challenge. Our engineers expect average speeds to be slightly faster with the new layout because a couple of straights have been added.
"From a performance point of view, I hope we'll be there or thereabouts this weekend. The aerodynamic efficiency of Red Bull Racing's RB6 should suit Silverstone's fast sweeps and physically, I'm in great shape. There are no lasting effects from my crash in Valencia a couple of weeks ago; I was a bit sore for 48 hours, mainly due to a bit of whiplash, but I was training normally by last weekend."
Christian Horner, Red Bull team principal
"Silverstone is a great event. It's our local race and we've got so many members of the team in attendance that it's an important race. We had a fantastic race there last time, which will be very difficult to top, but we hope to be competitive and we'll be doing our best to score as many points as possible."
Ferrari:
Felipe Massa (2009 Qualified: 11th, Finished – 4th)
"I watched the MotoGP race there on television a few weeks ago and my impression is that the new track layout is very different to the old one with some of the new slow' corners even slower than before. We will have to learn the handful of new corners on Friday, to judge if we need to make significant changes to the type of set-up we have run here in other years, although much of the data we have from the past will still be relevant as several sections are much the same as before. It means that when I walk the track on Thursday with my engineers, as we do at every race, it will be a bit more important than usual.
"I hope we make another good step forward this weekend, with the new updates we are bringing to England, because we saw in Valencia and even in Canada, that the F10 is progressing in terms of competitiveness, even if for various reasons, that did not translate into good race results. In fact, this weekend should provide a very clear test of how much we have improved, both in pure performance and in terms of where we stand against the teams currently ahead of us. Of the tracks we have raced at so far this year, Silverstone is most similar to Istanbul, where we had an uncompetitive weekend, so if the F10 works well here, we will know we are on the right road."
Fernando Alonso (2009 Qualified: 10th, Finished: 14th)
"At Silverstone, we will discover a circuit whose final section has been modified. Along with the engineers, we have spent these few days studying all the characteristics of the new track layout, analysing the available information, including watching the motorcycle races held there a few weeks ago. On Thursday morning, again with my engineers, we will inspect the track to see everything in detail, looking especially for bumps on the racing line.
"The track seems reasonably similar to the way it was, with a lot of very fast corners, which will not suit us that much. However, it's a fact that the configuration of the F10 seen in Valencia should give us a boost in these quick corners, so it is best to wait and see where we will be: I remain optimistic. Then, there is always a chance of rain playing its part at Silverstone. I would be very surprised to have a completely dry weekend and we will be ready to tackle any situation that comes our way."
Renault:
Robert Kubica (2009 Qualified: 12th, Finished: 13th)
"Silverstone's an exciting circuit, a very challenging track, especially the first six or seven corners which are just amazing with current F1 cars. Most of them are nearly flat out, or perhaps even flat – it depends on the wind direction – and as soon as you exit one, you're into the next one straight away: it's just amazing how much speed you can carry through them. Of course, there is the new section this year, as well, which I've seen on the internet and on TV when MotoGP raced there: it looks quite bumpy, and different to the previous version of the circuit, but I think overall that Silverstone is a place where all the drivers are happy to drive, because it really shows 100% of the potential of an F1 car in the high-speed corners.
"Silverstone is normally quite a tricky place for the set-up and for finding a good balance, because you have a big difference between the low-speed and high-speed corners, and there are not really any medium-speed corners in between. Downforce is a key point and with the changes we made to the car last race, it will be interesting to see if they bring us an advantage in the high-speed stuff. It will be a good test on Friday to see and feel the differences with the new package."
Vitaly Petrov (2009 Qualified – N/A, Finished – N/A)
"Until we get there and drive the lap it's difficult to know what the new section will be like in an F1 car. My feeling is that it will just make the lap a bit longer because the main characteristics of the track have not changed. It was always difficult to overtake at the old Silverstone because of the quick corners and I think that will still be the case this year. There are some extra straights, but I don't know if they are long enough to allow overtaking.
"The first thing we need to do is to see how our upgrades work at Silverstone because it's a very different circuit to Valencia and much more high-speed. And because it's difficult to overtake, I know how important it will be to get the maximum from the car in qualifying. So I must try and avoid any mistakes over the weekend and aim to qualify inside the top ten so that we can get the most from the race. It's a local race for the Enstone factory so it would be extra special to get a good result for the team."
Eric Boullier, Renault team principal:
"Renault is clearly a French company, but there is no longer a French Grand Prix on the calendar and that makes Silverstone even more important for us. Monaco earlier this year felt almost like a home' race, so you could say that Silverstone is our second home' Grand Prix because the factory at Enstone is only 40 minutes down the road. We're also planning to hold a special event at the factory on race day with a big screen so that staff and their families can enjoy this special weekend with us.
"I'm looking forward to seeing the cars on the new layout and hopefully it will encourage more overtaking and improve the show. In terms of our performance, the recent upgrades we have made to the car should work well at Silverstone and I'm hopeful that we can score some big points this weekend."
Williams:
Rubens Barrichello (2009 Qualified: 2nd, Finished: 3rd)
"Valencia was a good effort by the team. It was satisfying to see us move forward and I hope that we continue to do so. To help with that, we have more upgrades coming for Silverstone, which I hope will make the car go faster again. There's a good vibe in the team to get us back to where we should be and I'm proud to be a part of that effort. I honestly love England and going to Silverstone. I lived in Cambridge for a while to learn the language and to participate in the lower categories so it's fantastic to go back and race at Silverstone. I like the track a lot. I know it's undergone some changes since last year, but I watched the MotoGP on the TV a couple of weeks ago and we still have Becketts, Stowe and Club – I love Becketts! I hope we put on a good show for the public and we have good weather; that could be sunshine or rain, either is good for me!"
Nico Hulkenberg (2009 Qualified: N/A, Finished: N/A)
"We have another update coming for Silverstone. Others will probably be doing the same, so we will have to work hard to keep the momentum going and stay in the top ten. It's a massive positive that we continue to have new developments in the pipeline. It's always good to know that everyone in the factory is trying hard to develop the car in order to move forward. I have spent some time at the factory learning Silverstone's new layout in the simulator, but it will be more interesting to see exactly what they've done when we get there. As I've lived in Oxford for a while now, and because it's just down the road from Silverstone, I kind of see the British Grand Prix as my second home race. I'm looking forward to getting started as I have unfinished business from Valencia."
Sam Michael, Williams technical director
"Although Silverstone has undergone some significant layout changes since last year, the traditional, high speed first sector hasn't been touched and remains the circuit's biggest challenge for the drivers and chassis. The FW32 will have further upgrades for the British Grand Prix, including an exhaust blown diffuser, rear brake duct and front suspension changes. We'll evaluate the exhaust during the practice sessions on Friday and will make a final decision as to whether we race it that night."
Force India:
Adrian Sutil (2009 Qualified: 20th, Finished: 17th)
"Silverstone is the closest to the team's factory and a lot of the staff go over to the track to watch the race. This year as well they are hosting a staff event at the factory on Saturday so it should be an even better atmosphere. Everyone is working so hard for the results it would be perfect to get a good finish in front of our 'home' crowd. There's a lot of history there for the team as well, it's where we shakedown our cars at the start of the year, where we have tested so many times, and getting some points would be a fantastic feeling. We've done all the usual simulation work for the new layout, and I will go into the simulator this week but there hasn't been so much exceptional preparation. There's only one new section and the rest of the circuit has stayed the same so, in fact, it's not such a big workload for us. They seem to have kept the best sections and the overall character will stay the same, so high speed and flowing for the majority of the lap. We have some new developments, I would say a very similar step to Valencia, around the front wing and floor. As we saw last year, every update we put on – whether large or small – does move us forward so I think it will put us in a similar position to Valencia, top ten, higher if we can. We've also got the SRW working really well now too so the combination of the new parts and the extra top speed makes me feel quite confident going into this race."
Vitantonio Liuzzi (2009 Qualified: N/A, Finished: N/A)
"I'm really looking forward to the next race. I always liked the old track layout with the high speed sections, particularly the Becketts complex that is a real challenge as you need to keep the momentum all the way through the corners. I've looked at the new section and it might actually be even more suited to the characteristics of our car. I think we can be as good there as we were in Valencia, but hopefully without the qualifying problems we had. We will be aiming for the top ten again. We have some solid updates for the British Grand Prix that will give us extra downforce in high-speed corners, which is crucial at that track. I really want to put on a good show in front of the factory to give them a reward for the work they've done and the trust, belief and support they have shown me."
Paul di Resta, Force India third driver
"I can remember watching my cousin Dario in a Vauxhall Junior race when I was very young and then I got my turn when I raced there in Formula Renault in 2003 and 2004. I started from pole and had good races, but after that I started racing in Europe. But my strongest memory of Silverstone is when I first drove an F1 car there as part of my McLaren Autosport BRDC Award prize that I won in 2004. All the assessments for the prize were also done at the track so, for sure, I do feel that Silverstone is a real milestone in my career so far. It will be a special thrill to sit in an F1 car going around Silverstone and I'm really looking forward to it. All the same I'm going out there with the same approach I've always had: with my head in gear, giving the team consistent running, valuable feedback time and learning the track for the future. I'm looking forward to it, particularly as I've not raced in the UK for some time. I left to go to F3 Euroseries in 2005 and then have been racing in the DTM so this will be a really exciting time to return, particularly when there's so much support for F1 in Britain after our two back to back world champions. More importantly I am looking forward to getting back into the car, and at a track that is as high speed as Silverstone. Valencia wasn't such a challenge as it was just straights then turn in, but at Silverstone you're really relying on the car's performance. Plus to race round a track that's got so much history and so much tradition about it, that's quite special."
Dr Vijay Mallya, Force India team principal
"It's a very big weekend, and obviously Silverstone is where we really want to perform well. It's the home race for us now and there's a lot of involvement from the guys in the factory, and the whole team enjoys the race weekend. We've got a little update coming, over and above what we had in Valencia, and hopefully we can bring both cars home well into the points. Clearly this car is better than anything we've had at Silverstone in many years."
Lotus:
Heikki Kovalainen (2009 Qualified: 13th, Finished: DNF )
"The first sector of the circuit is the best sector on the whole F1 calendar – lots of fast bits that require maximum commitment. I haven't driven the new part yet but I've heard it's going to be great and we have some more updates coming that I hope will keep moving us closer to those ahead and further away from the other new teams. The fans are always fantastic at Silverstone. You can see from the campsites all around the area that they are big followers of F1 and they are always really nice and friendly. The Classic Team Lotus Festival at Snetterton really showed just how much support the British people give us so it's going to be great to race on home soil and see a lot of Lotus Racing flags waving in the grandstands!"
Jarno Trulli (2009 Qualified: 4th, Finished: 7th)
"Silverstone will definitely be another important weekend for us, the first time a Lotus has raced in F1â"¢ in the UK for a long time, and our second home race. I think we'll have a lot of support there, and I hope we'll do well – the British fans are very knowledgeable and there's always a lot of them, so it'll be a great show, whatever happens. There's a new layout, and it'll be very interesting to see how quick that's going to be – we'll be looking at how it affects the tyres and what strategies and setups will be best for us, so all in all I'm looking forward to getting over there."
Fairuz Fauzy, Lotus third driver
"I know Silverstone very well, both from racing there numerous times in the past, and also because I live right next to the circuit. I'm very excited about getting out on track in front of my friends, family and fans, and it'll be a real honour to not only be one of the first F1 cars to try out the new layout, but also to be able to bring the Lotus marque back to its spiritual home. The new layout looks very quick, and it'll be very interesting to see how best to attack it, so I'll do the best job I can to help the team maximise the upgrades we've put on the car at one of my favourite tracks in the world."
Tony Fernandes, Lotus team principal
"Silverstone is obviously an important race for us, and it's going to be very busy for everyone in the team. A lot of the guys at the factory will be in the stands, alongside our growing army of fans, and it's great that we're giving them the chance to see our green and yellow cars taking the fight to the established midfield teams at the home of motor racing. It's a great honour for us to welcome Hazel Chapman in on Sunday – she's going to officially open our new motorhome, and that'll be a great occasion for all of us – I hope we can continue to do justice to Colin's legacy as we find more pace, lighten the car and grow as a team, and with Hazel and Clive Chapman at Silverstone with us I think we're in very good company at our second home race."
Mike Gascoyne, Lotus chief technical officer
"We're looking to take another step forward this weekend, with an update package that will give us another chance to take the fight to the teams ahead. We have a number of lightweight parts across the car that, among other benefits, will help us use the ballast more effectively, giving our drivers a better chance to optimise balance and setup. We also have the last major aero modifications of the season, including a new floor and various bodywork updates, and then the design team's attention turns to next year's car. It's a very exciting time for Lotus Racing, and our second home race of the season will be a great occasion for everyone associated with our team, and a great chance for the fans to see us in competitive action for the first time in the UK."
Virgin:
Timo Glock (2009 Qualified: 8th, Finished: 9th)
"This will be a very exciting weekend for the whole team as it's the first home Grand Prix for Virgin Racing. Not only that, we get to come back' to Silverstone, a track that is definitely one of the very best on the calendar. Judging by our schedule for the weekend, the Team is certainly celebrating the occasion, with lots of things happening and lots of friends, family and sponsors joining us for the fun. Personally I love racing at Silverstone and I'm looking forward to seeing the changes to the track for myself. It's hard to believe we're at the halfway point of the season – the first nine races flew by so quickly. But it's great that we reach this milestone off the back of a strong weekend in Valencia for myself and Lucas and with the performance developments we had there working straight away on the car. We have our biggest upgrade so far coming this weekend and I hope we will see the same rate of progress from the moment we turn a wheel in free practice on Friday. If things work out well I think we can have a stronger second half of the season for sure. So we are optimistic for a good race and I look forward to seeing all the Virgin Racing fans this weekend. We are counting on their support."
Lucas di Grassi (2009 Qualified: N/A, Finished – N/A):
"Despite the fact that I'm Brazilian and Timo is German, it's impossible not to think of this weekend as a home Grand Prix for us all and I'm really looking forward to it. It's been a tough year putting the team together and a challenging start to our debut season, so everyone in the Team deserves a good home race this weekend and I hope that we will all get to enjoy it. Both Timo and I have been busy in the simulators this week, getting to grips with the new circuit layout and putting some virtual miles on our car with the new developments. It's a big step for us – the biggest of the season so far – and it should give us a lot of performance benefit, so I am looking forward to driving the actual car on Friday for the first time. I really rate Silverstone as a track. I've only driven in GP2 here but it's a real racing track and I can't wait to experience it in an F1 car and with the new changes it's going to be very exciting. I can't wait. It's going to be a busy weekend for sure, but there's real buzz about the team and after a great weekend in Valencia I hope that we can carry that through to another positive result."
John Booth, Virgin team principal
"We go into our very first home Grand Prix on a real high after a positive performance in Valencia. The British Grand Prix is always a fantastic occasion for UK motor sport, but this year, as a wholly British owned team, we are incredibly proud to be racing on home asphalt. Silverstone is, in my opinion, one of the best circuits that we race at. Not only is it a challenging and exciting track for the drivers, but the crowd are incredible. It's always a sell-out and although there's a lot of support for Lewis and Jenson with their battle at the top of the championship table, we know that there are many fans who have taken Virgin Racing to their hearts and who will really get behind us. It's also a refreshing change for the team, pretty much all of whom are British. Although they love to travel, this race does give everyone a chance to sleep in their own beds a bit more than is usually the case. All in all, it will be a weekend to remember and with a new upgrade and the momentum of our weekend in Valencia to carry us forward, we hope it will be another opportunity to shine as the best of the new teams."
Nick Wirth, Virgin technical director
"Silverstone has always been a fantastic race track and the recent changes to the circuit have made it an even higher speed challenge than it was before. The new section of the track begins with an ultra-fast right-left combination followed by a low speed complex, and ends in a challenging turning and braking section as it blends back into the old track. It certainly looks exciting on our real-time simulators and I really hope the spectators get some more great views of F1 cars on the limit. For us, the focus has been delivering a major step in aero performance to the cars straight from our unique all-digital development process. We're looking forward to seeing how we progress, as the update represents a significant change to many of the car's inherent characteristics. The engineers and drivers have been busy on the simulators getting an understanding of what set-up changes will be required to get the best from the package, and now we're all relishing the challenge of our home Grand Prix."