There must have been a moment in the Hungarian Grand Prix when under pressure Toro Rosso driver Sébastien Bourdais, his helmet brimming with foam as a result of an unexpected pit-stop fire, questioned his motivation for Formula One's arduous second tier.
But as Forumula1.com's Chris Hayes found out, etched deep under the skin of this affable Frenchman is a steely resilience and a ruthless taste for competition, qualities which are currently helping him weather a rough spell of results, not to mention stormy speculation about his future.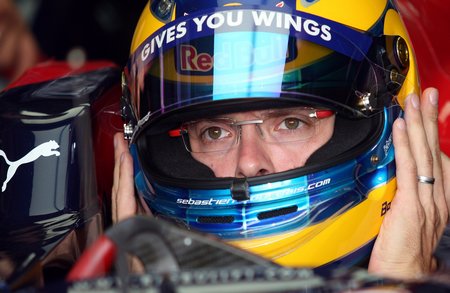 By Christopher Hayes
Identity and heritage flow through the lips, it is said and so it is with Sébastien Bourdais. The first thing to hit you about the 29-year-old, besides the stylish Avant-Garde glasses perched over his welcoming complexion, is his broken French accent. The American twang an artefact of over five years of dicing with death in the US Champ Car series staccatos intermittently through the flowing French slur, reaffirming the implicit veteran tag that Bourdais carries despite his rookie status in Formula One.
After graduating through the ranks of Formula Renault and becoming Formula 3 champion in 2002, Bourdais made the move to Champ Cars in the United States with Newman-Haas Racing, becoming the first rookie to take pole position at his maiden race. The Frenchman grew close to engineer Craig Hampson, a relationship Bourdais himself likened to a marriage, and the partnership blossomed into four glorious championship years, and total dominance of the series.
But it wasn't all fun and games. Witnessing team-mate Bruno Junqueira career into the wall at the prestigious Indy 500 race, breaking his back, had a profound effect on the Frenchman, and fears over safety played a key role in his decision to make the switch to Formula One.
"As soon as you start travelling between walls at 300kph plus and you're going to have an impact that you're pretty sure is going to break your back then that is something that is just too daunting," says Bourdais.
"I did it in Indy and I felt like a survivor after the race, especially since my team-mate broke his back, and yeah it's obviously something you double think.
"I talked about it with Claire [Sébastien's wife] and we didn't feel like it was smart thing, when you're expecting a baby and everything, to finish in a wheel-chair at best if it goes wrong: that's not something I'm really too keen on. Obviously Formula One is very dangerous as well, but you don't need to push it to the extreme and take unnecessary chances."
You can't live with regrets all the time. I enjoyed my time in the States and it was fantastic years and we won so many races and championships it was awesome.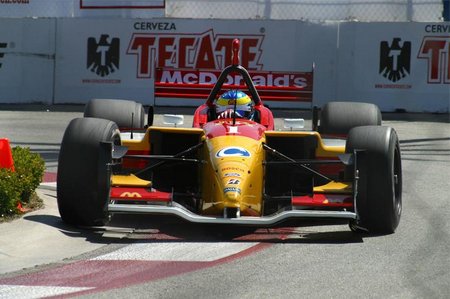 Bourdais won four titles with Newman-Haas Racing in the United States Champ Car series
And so it was that Bourdais lined up on the grid at Melbourne for the 2008 Formula One World Championship, a veteran in all but name, for Toro Rosso, a team he had tested with several times during his last year in Champ Cars after opportunities with Arrows in 2002 and Renault in 2004 collapsed.
It turned out to be a cruel introduction to the unpredictability of Formula One, but results-wise it couldn't have been a better start for the four-time Champ Car champion.
The Toro Rosso driver used every ounce of his knowledge of yellow-flags and safety cars to negotiate the chaos and carnage thrown up by the season curtain-raiser, and found himself on course for a stunning fourth place on his debut. But an agonising engine failure with two laps remaining left him stricken on the Melbourne sidelines, ruing what might have been. The seventh place that he was eventually gifted as a result of so few cars finishing was little consolation, but the message of intent had been fired, and great things were expected of the Frenchman in the remainder of the season.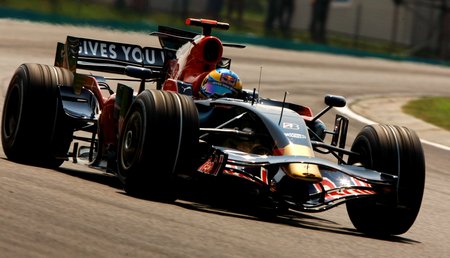 Bourdais has struggled to get to grips with Toro Rosso's new car this year
Sadly, a catalogue of problems and incidents (Bourdais has failed to finish no fewer than five times and has twice tangled with his peers), scuppered his chances of a repeat points-haul. And when Toro Rosso introduced their new car, the STR03, mid-season, Bourdais found himself languishing in the wrong end of the mid field, as his highly rated team-mate Sebastian Vettel, who has consistently out-qualified Bourdais, adapted better to the rear-end nuances of the car.
"The problem is your experience and the influence you have is limited so it doesn't matter so much," explains Bourdais. "I think that's also one of the reason experienced drivers and young drivers tend to be instantly successful in Formula One, because in the end there aren't so many thing you can do with the car."
It all culminated in Hungary a fortnight ago when, having started at the rear of the field, he was forced to make an extra pit-stop after mechanics sprayed foam onto his visor extinguishing a small fuel-fire. He eventually finished last.
The misfortune of Hungary aside, Bourdais' performances have triggered a hurry-up call from Toro Rosso team boss Gerhard Berger, and with rumours linking several rising stars to the team for 2009 including Berger's protégé Bruno Senna there is unsaid feeling in the paddock that at 29, Bourdais has left it too late to mount a serious assault on Formula One. Does he regret not making the switch earlier though? Not a bit.
"No, you can't live with regrets all the time," he reminisces, "I enjoyed my time in the States and it was fantastic years and we won so many races and championships it was awesome."
"It wouldn't change anything; it's been the way it's been. For sure, it would be better if I was 23 and not 29 but do I regret? No. Now obviously, the time I have to make it through the ranks of Formula One is reduced, but no."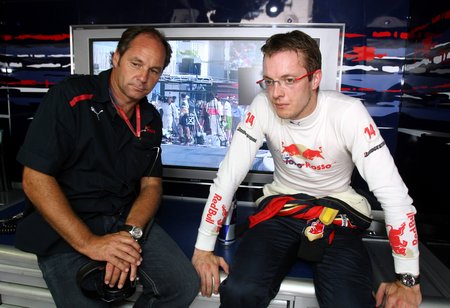 Bourdais needs to impress Toro Rosso team boss Gerhard Berger if he is to keep his seat for 2009
It is testament to his character as a racer and a fierce competitor that of all his disappointment this season, the result he signals out as his worst, is his performance in Canada, Montreal, where he was one of the few drivers to escape drama and catastrophe, bringing his car home in thirteenth. All the drivers struggled with a crumbling track surface however, and Bourdais' anguish at not being able to attack the track with full force, effectively nannying the car home, was plain to see:
"This was the worst race ever for me, the worst weekend of my entire career," he said. "I have never experienced anything like it. It was a complete disaster for me so I just forgot about the possibility of trying to drive fast, just trying to bring the car home and even doing this was a challenge."
Bourdais is under no allusions that he needs to pick up his results in the remaining seven races, and he remains philosophical about the uncertainty surrounding his future.
"I can't really say that I've shown what I wanted to show this year so far, so you know, what happens happens. I'm a free man. If I get fired because of this or that, what is really important for me is that I give my best.
"I'm giving my best, for sure it not paying off right now, you can only have so much influence on so many parameters, so for me I will have no regrets that's for sure. I'm doing the very best I can, and if it's not enough for some people then fine."