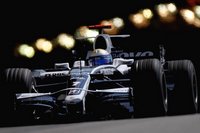 Rosberg is ecstatic with his third row grid slot and relished every minute of his qualifying assault on the Monte Carlo street circuit.
The Williams ace hustled his upgraded and vastly improved FW30 around the twisty harbour streets en-route to an impressive sixth place, slotting in between Robert Kubica and Fernando Alonso.
The qualifying result is Rosberg's best of the season and the 22-year-old couldn't be happier.
"I am very happy, I got the most out of the car and this is a good result," enthused the Monaco resident.
"I really enjoyed it out there today. It was good fun and I was really pushing it to the limit – I imagine it would be pretty exciting to watch my on-board camera footage because I was really attacking every bit of the lap.
"Qualifying in Monaco is different to anywhere else and being able to get to the limit here is just great."
The German youngster acknowledges that wet weather tomorrow could play havoc with the race.
"If it rains tomorrow it will be madness, so I'll just have to be very careful and keep it on the track. With a good strategy, I can have a good Monaco Grand Prix."
Sam Michael, Williams Technical Director, concurred that a wet race could throw the event wide open.
"If it's a wet race, anything can happen," said the Australian.