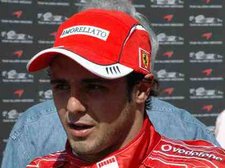 Brazilian ace concedes flawless Brazil victory wasn't enough for title and accepts "that's sport".
Felipe Massa came agonisingly close to becoming the first Brazilian world champion since Ayrton Senna in 1991 yesterday after winning the Brazilian Grand Prix – and for a split second the title too.
As he crossed the finish line the Brazilian grandstands erupted: Lewis Hamilton was out of the money in sixth place, Massa had done it against the odds.
Then, heartbreak. Hamilton caught and passed Toyota's Timo Glock at the final corner, clinching fifth place and with it the title.
Massa conceded he found it difficult to manage his emotions, but remained upbeat and proud of his performance.
"It was an exciting day," he said. We did everything to perfection and we almost managed to pull it off."
"Then, as I crossed the line, Rob told me that Hamilton had finished fifth and therefore he took the title by one point. Sport is like this and one has to accept that."
"Congratulations to Lewis: whoever gets the most points deserves the title. I am very proud of the whole team and how much support they have given me during this fantastic season."
"Now we must be happy with what have done, namely bringing home the Constructors title which I know is so important for the team."
"It was a season of highs and lows and we have learned a lot, from the good moments and from our mistakes. I can leave Interlagos with my head held high because once again I have won in front of my home crowd and because this is an unforgettable day.
"Now I want to celebrate with my family, my friends and my team. We deserve it!"
Ferrari team quotes:
Stefano Domenicali:
"It was an incredible day and we are happy with what we have achieved. Eight out of ten: that was the target set us by President Montezemolo at the start of the season and we achieved it, at the end of a difficult, complicated and incident packed season. The entire team, both at the track and back home always work with great intensity and it deserves to be congratulated for this. Of course, there is disappointment that we did not get to see Felipe realize his dream, especially given how the race turned out, but I think that nevertheless, days like this are important. Felipe has grown so much, year after year, demonstrating his talent and personality, answering his critics with his driving and with his mind. He has had an amazing season and would have deserved the title. That s sport, it can sometimes be cruel. Last year we won the Drivers title by a point and this year we lost it by one. I wish to congratulate Hamilton, the new world champion. In conclusion, I wish to thank first and foremost, President Montezemolo, who is always close at hand, especially in the most difficult moments. Then I also thank our technical and commercial partners and of course, the FIAT Group, of which we are proud to be a part."
Kimi Raikkonen:
"I am happy that the team has managed to win the Constructors title and I am sorry for Felipe, who has lost the title by a single point. That s racing and we have to live with it. I am particularly happy for Stefano, in his first year as team principal as I know how much pressure he has had to deal with and I think that this result is a good reward for that. My race was not particularly exciting. At the start the track was wet, especially the first three corners, where I was being very careful not to make a mistake. Then, my first set of dry tyres gave me a lot of understeer and I was struggling to match the pace of the leaders. On the second set, things gradually improved and I managed to close up on Alonso. Then, when we went onto wets, I got very close but the team told me to avoid taking any risks as Felipe had a chance of winning the title and so I gave up on attacking him. A not very positive season for me has come to an end, but I will do all I can to make up for it next year."
Luca Baldisserri:
"Last year we won both titles at the last race and this year we lost one, with just a few metres to go. We had a perfect race, without making the slightest mistake in difficult conditions, with the rain playing its part at the start and at the end. Once again, we have won the Constructors title which is in itself a great achievement. It confirms that this team, considering also all the changes it has undergone in the last two years, is still the best. I wish to congratulate Felipe, for yet another amazing race: he has had a fantastic season, as a driver and as a person."