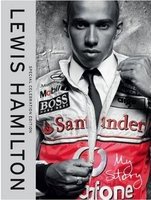 The special celebration edition of Lewis Hamilton's biography My Story is the nation's best-selling sports book.
In the week ending last Saturday, it sold 12,712 copies in stores, outselling the books by Jamie Carragher and Sir Bobby Charlton, and putting it at number 13 in the Sunday Times top 20 hardback non-fiction chart.
Updated to include the 2008 F1 World Championship season, including the breathtaking finale in Brazil which saw Lewis clinch the World Drivers' title on the penultimate bend, the book contains more than 70 new photographs and a new introduction by Lewis reflecting on his remarkable year.
From early karting glory and signing for the McLaren team at the age of 13 to becoming the youngest ever F1 World Drivers' Champion with the Vodafone McLaren Mercedes team just 10 years later, LEWIS HAMILTON: MY STORY – Special Celebration Edition, recalls all the memorable moments in an outstanding career to date.
A substantial donation from the advance together with all the future royalties will be paid to the Lewis Hamilton Foundation, a trust set up to provide charitable funding for children and young people.
To purchase the book from amazon click HERE.