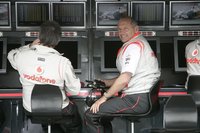 Ron Dennis has said that he has no regrets about appealing the Belgian Grand Prix penalty decision, despite the appeal court throwing the appeal out as inadmissible and the team spending a lot of money and effort on the case.
"We look back on the whole process and the first thing is that we try to be absolutely professional," Dennis explained. "The option of not appealing just didn't exist. If we come to the end of the season and we have not won the world championship because of those points, then reflecting back on it we would have said, what if we had appealed? So we had to appeal.
"We don't spend any time thinking about it or reflecting on it – our whole approach this year is to rise above these things, to be more focused on the future and to power ahead.
"We try and take strength out of these situations. Do they weaken us? No. They make us stronger. It increases our commitment to succeed. That whole process did not have the outcome that we would have liked, but it was an essential process for us to go down."
Mercedes-Benz motorsport boss Norbert Haug has agreed that the team had to appeal and hopes that the points Hamilton and the team lost will not make or break their final championship standings.
"There was no alternative to the appeal, we had to do it, even if in the back of our minds there were the thoughts that maybe we have no chance," Haug said. "We could not have done it differently. And I still cannot see what we did wrong. I have to accept the rulings and the outcome of the whole process, but for me the winner got six points in Spa and this will be in my mind. We take it as it is and concentrate on the future.
"I hope this will not be decisive at the end of the year. Last year it was one point that decided the championship, and it would not be good for the sport if it was three, or four, or five points this year.
"This is not me telling you as a precaution, none of us would like to have that outcome for the championship. We are working very hard to have one more point than the second place guy, and that sums it up. Now we have to be positive and go forward. There is nothing else you can do."