Book your F1 Tickets today!
After the success of last year we're continuing to offer F1 Fans the facility to buy Formula 1 Tickets to all Grand Prix this season. You can check availability of every Grand Prix and review seating plans at the link below. All ticket types are available, including Grandstand, General Admission, and Hospitality access.
Enter our ticket store to buy Formula One Practice, Qualifying and Race tickets and passes ('VIP Paddock Club' access now available).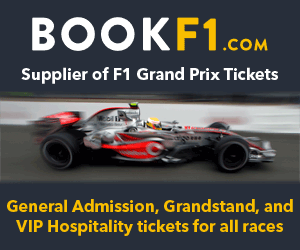 2011 Formula One Tickets
Buy Malaysian Grand Prix Tickets
8 – 10 April 2011, Sepang International Circuit.
Buy Chinese Grand Prix Tickets
15 – 17 April 2011, Shanghai International Circuit
Buy Turkish Grand Prix Tickets
6 – 8 May 2011, Istanbul Park
Buy Spanish Grand Prix Tickets
10 – 12 May 2011, Circuit de Catalunya
Buy Monaco Grand Prix Tickets
27 – 29 May 2011, Monte-Carlo
Canadian Grand Prix Tickets
10 – 12 June 2011, Circuit Gilles-Villeneuve
Buy European Grand Prix Tickets
24 – 26 June 2011, Valencia Street Circuit
British Grand Prix Tickets
8 – 10 July 2011, Silverstone
German Grand Prix Tickets
22 – 24 July 2011, Hockenheimring
Hungarian Grand Prix Tickets
29 – 31 July 2011, Hungaroring
Belgian Grand Prix Tickets
26 – 28 August 2011, Spa-Francorchamps
Buy Italian Grand Prix Tickets
9 – 11 September 2011, Monza
Singapore Grand Prix Tickets
23 – 25 September 2011, Singapore
Japanese Grand Prix Tickets
7 – 9 October 2-11, Suzuka
Buy Korean Grand Prix Tickets
14 – 16 October 2011
Buy Indian Grand Prix Tickets
28 – 30 October 2011
Abu Dhabi Grand Prix Tickets
11 – 13 November 2011, Yas Marina
Buy Brazilian Grand Prix Tickets
25 – 27 November 2011, Interlagos